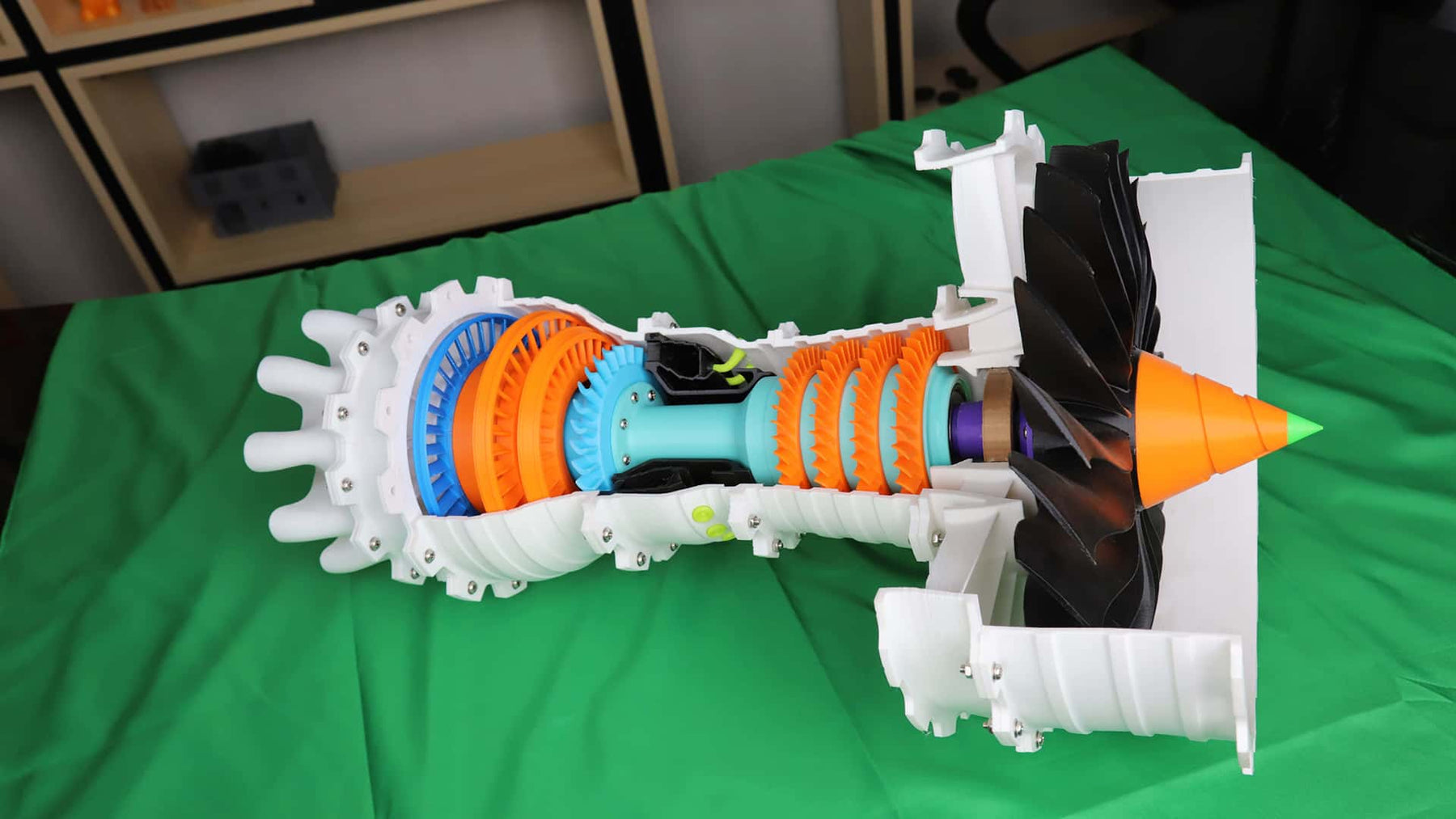 3D Printing Accelerates Turbomachinery Developing & Manufacturing
3D printing has been widely used in many sectors nowadays. The technology is also a good option to accelerate turbomachinery developing and manufacturing. It can speed up turbomachinery prototyping and validation for max design flexibility.
What is turbomachinery?
Turbomachinery describes machines that transfer energy between a rotor and a fluid. It has cold and hot sections which are also known as compressors and turbines as above picture showed.
Turbomachinery can be found anywhere. You can see it in rockets, jet planes, power plants or even in windmills. By immersing a rotor (also named as impeller), a rotating wheel, in a gas, steam, water or oil fluid, a turbomachinery rotate and impel the fluid to convert its energy into usable power to drive a rocket or a plane, or to produce electricity and etc.
Advantages of 3D printing for turbomachinery
Generally, turbomachinery developing follow strict procedures from designing, molding, casting, testing and modifications. It can be quite complicated and consumes years of time to validate the design.
As a result, turbomachinery manufacturers are now looking to the newly emerged technology, 3D printing in recent years. And it proves that 3D printing really brings a lot of advantages for developing a turbomachinery.
Accelerate turbomachinery designing
As we said before, turbomachinery design could take a long time by following stringent procedures to validate if a new design work. The first thing is to make a mold for producing a functional prototype. This can take years. But with 3D printing technology, companies can skip over mold thing and directly print out the design to reduce the process into only a few months.
Increase production efficiency
With the latest 3D printing technology, manufacturers can increase their efficiency in production of turbomachinery components. The laser model deposition technology, often known as LMD for abbreviation in 3D printing, is now helping some companies to make the remaining geometry for the final finishing of a closed type impeller. With a LMD 3D printer, metal powder is automatically feed into the nozzle, melted and deposited successively onto the print bed. It needs only 48 hours to make a closed impeller. Comparing to cast process, LDM 3D printing highly increases production efficiency of turbomachinery components.
LMD, Laser metal deposition technology
Enhance component design
3D printing is totally a different way from cast process for making components. The unique deposition method offers designers a wide space for more creative designs for turbomachinery components.
The German giant, Siemens had already applied the technology to redesign a gas turbine fuel swirler, a part responsible for mixing air and fuel. According to their technicians, the successful application of 3D printing in turbomachinery component production provides them a positive vision of developing creative turbines and components for more powerful turbomachinery.
Easy component maintenance
SLM printers
And the last advantage of 3D printing is proved to be an easier way to repair turbomachinery components. For example, Siemens managed to develop a customized SLM (Selective Laser Melting) 3D printer to replace a component named as burner tip. This part, exposed to hot gas and high heat inside combustion chamber, tends to wear frequently. And with the SLM 3D printer, replacing burner tips is no longer a problem of exhausting job. And repair time is reduced to 10% to that of using molded and cast components.
Simply put, 3D printing is now changing turbomachinery designing in many aspects. By combining SLM and LMD, the selective laser melt and laser metal deposition technologies, engineers are able to develop, manufacture and repair for turbomachinery components in a more accelerated, advanced and efficient approach.
And at the end, we made a replica 3D model of a jet engine with an ET5X 3D printer comes from Anet. And this replica printed by the fused deposition manufacturing technology (FDM 3D printer) looks marvelous. You won't miss a try on it, will you?  To print it, you can download the file on below Thingiverse link.
Jet engine printed by Anet ET5X 3D printer
Designer: CATIAV5FTW
File download link: https://www.thingiverse.com/thing:1327093
If you have any questions, please feel free to leave comments down below, our guys are waiting to help you. Joining our community is also a good idea, you can get information, model files, g-code files, tutorials and find the enthusiasts as you are. It's a place where creative people gathered, just hit the link: https://forum.anet3d.com/