Anet ET4 3D Printer Review vs. Ender3 Pro
With the almost same sale price, both Anet ET4 and Ender3 Pro provide a 220*220*250mm printing space and perform great printability. Which is the best printer of the two? Pay attention to the following reviews and you will find the answer.
Anet ET4
Pros
Affordable price
Easy assembly
Stable frame construction
Glass print bed
Quiet operation
Cons
Poor firmware compatibility
LessG-code support
Anet ET4 is a cost-effective 3D printer launched by the Anet brand. It's a flagship model that targets 3D printing beginners. With a price of less than $250 USD, Anet ET4 is a budget 3D printer that doesn't skimp on features. With abundant features, Anet ET4 performs surprisingly well at its price.
With a 32-bit processor board, there is a wide range of impressive features of Anet ET4, including power fail resumption, thermal runaway protection and filament out detection. The device is also equipped with a 2.8-inch color touchscreen, which helps you set the printing easier.
Assembly can be the first challenge for beginners. Some printers can spend user hours on assembly. Anet ET4 adopts a pre-assembly design. It comes as modular units that easy to assemble even for beginners. Besides, Anet ET4 designed with a clean cabling and mechanics system, there is a single large cable that comes from the base to the distribution. Everyone can get a good start with it.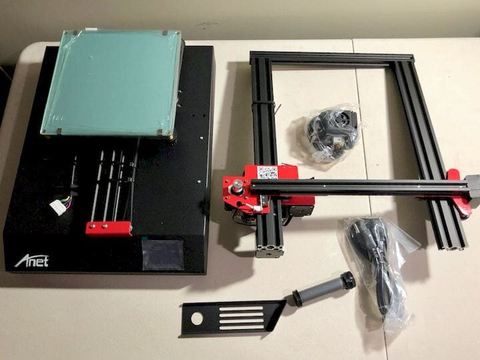 Anet ET4 is built with all-metal construction. The rigid metal frame helps reduce body shaking during printing and provides you better printing results. Anet ET4 performs better than most printers at its class on stability.
The tempered glass print bed Anet ET4 uses does really excellent job absorbing the heat from the heat bed. It provides superb adhesion to the first level. Meanwhile, you can remove prints from it with little effort.
Anet ET4 equipped a TMC2208 Drivers, which know to minimize the noise of the device when operating. As a result, Anet ET4 is ultra-silent when printing.
The print quality of Anet ET4 is great. Especially the bottom, the glass print bed provides the beautiful and shiny surface of the bottom of the prints. But the profiles available on Anet websites didn't work well, instead, starting with an Ender 3 profile and doing some adjusting will work better.
However, the factory configuration of the Anet ET4 doesn't use a Marlin-based firmware. As a result, the device doesn't work with all of the traditional Marlin G-code, such as some of the plugins of the Octoprint. It is worth mentioning that the Marlin firmware update is available on the Anet website, you can update your printer if you want.
Ender 3 pro
Pros
Better Octoprint plugin support
Standard Marlin G-code support
Cons
No 32-bit board
No filament out detection
Mess cabling system
Complex assembly
Slightly less stability
Ender 3 pro supports all the standard Marlin G-code. Also, compared with Anet ET4, Ender 3 pro has better plugin support on Octoprint. Both Anet ET4 and Ender 3 pro support power failure resuming and thermal runaway protection, but Ender 3 pro doesn't support filament out detection. That means that if the filament breaks or runs out in the middle of the printing, you may need to restart all the print because of losing the breakpoint.
Different from Anet ET4, Ender 3 pro ships unassembled, which may be a challenge for beginners, not to mention the mess of cables. You need to take more time to put all the parts together and get it running.
Though one of the main progress of Ender 3 pro is the new sturdy frame design, Anet ET4 still performs slightly better than it on stability.
Kickstarter Autodesk Print Comparison
We use a Kickstarter Autodesk test to compare the printability of these two 3D printers. Either Anet ET4 or Ender 3 pro has a stringing problem on the top of the towers. But the problem on the Ender 3 pro seems to be slightly worse.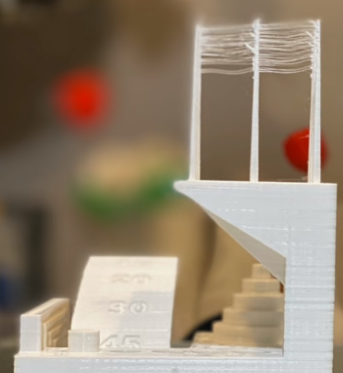 Anet ET4 Kickstarter Autodesk test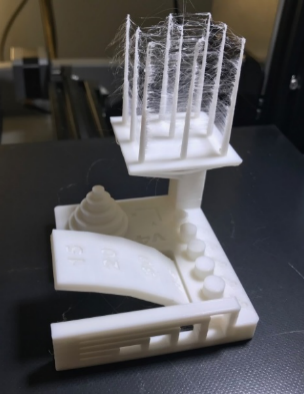 Ender3 Pro Kickstarter Autodesk test
Anet ET4 vs Ender3 Pro Verdict
| | | |
| --- | --- | --- |
|  Specifications | Anet ET4 3D Printer | Ender3 Pro 3D Printer |
| 32-bit Mainboard | Yes | No |
| Octoprint | Yes | Yes, better plugin support |
| Meanwell Power | No | Yes |
| Power Fail Resume | Yes | Yes |
| Thermal Runaway Protection | Yes | Yes |
| Filament Detection | Yes | No |
| Assembly / Wiring | Easier / Cleaner Cabling | No bad |
| Build Quality | Fully enclosed electronics | Cables are a mess |
| G-code Support | Proprietary | Standard Marlin |
| | | |
| | | |
| | | |
It can say Anet ET4 and Ender 3 pro are evenly matched. Ender 3 pro has a better compatibility of the firmware with third-party components and better G-code support, which can be fixed with a firmware upgrade, while Anet ET4 provide a more stable frame structure, more features, and being more beginner-friendly, also, more potential for significantly more upgrades to the firmware
After all the reviews above, now you have an idea of the features of the two printers. Which is more recommended? It's a personal choice. I will show you all the Anet ET4 specifications for you to know this 3D printer better.