11 Lithophane Shaps for Your 3D Print Pictures on Lithophane Maker
Lithophane is popular 3D printing community. In simple words, lithophane is to make your picture into an illusion of three-dimensional solidity. With a 3D printer, you can easily print 3d pictures. Like 3D glass you need to enjoy stereo movie, you need light for your 3d print photo to make it more three-dimensional virtually.
To combine 3d print images with lamp would be a nice decoration for your house and a nice customized gift for your families and friends. To make lithophane lamp, first of all, you need to transfer your 2D photo to 3D print file with STL format. And today we'll introduce 11 shaps of lamp deco with mostly used lithophane generator website lithophanemaker.com. 
As a website dedicated on lithophane lamp making, the lithophanemaker.com has provided 11 online makers to turn images into different designs of stl format files to make different lithophane lamps. With these STL files, you can build them out with a 3D printer easily, and decorate your house for marvelous and attractive lighting effect. Simply to put, lithophane lamps max personalized house lighting into art and enthusiasm for life. Let's see what we can get from the website.
1. Flat Lithophane Photo
Normally our first lithophane print starts with this simple shape. It's easy to print. And you could even print frames for the 3d print phone and put lights inside. It would be a nice deco beside your bed.
Tips for Lithophane 3D Photo Print
For the flat shap, there are a few print tips. First, you could print it vertically. And because you print it vertically, the contact space between the print bed and the print is small, so we suggest you to use glue to help prints stick firmly on the heatbed.
For more stereo view, set the infill to 100% in cura profile settings. The infill settings for normal 3d prints is about 10-30%. But for lithophane picture 3d print, 100% infill would help lights to to tricks better after print.
Use white PLA filament for lithophane print.
Slow down the print nozzle movement speed. The normal print speed we set to print other models is about 50-60mm/s. But for lithophane print, we would would suggest to slow down the print speed to 30mm/s.
Flat Lithophane 3d photo transfer link: https://lithophanemaker.com/Framed%20Lithophane.html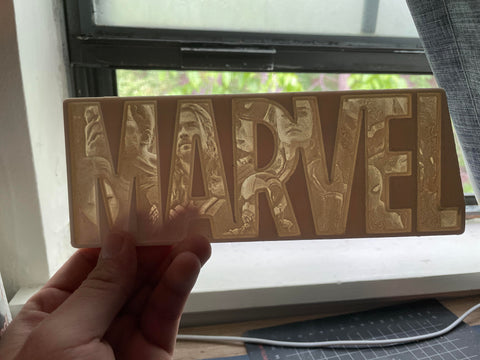 2.Heart Shape Lithophane Lighting
Use the link and turn images into heart lithophane lighting. It's a good gift for lovers, families and also, you can make it for your friends. No one would reject a gift like that.
File transfer link: https://lithophanemaker.com/Lithophanes.html
3.Night Light Lithophane
File transfer link: https://lithophanemaker.com/Night%20Light%20Lithophane.html
If you have a night light in your house, try above link and make a flower lithophane cover for it.
4.Lithophane Box Lighting
File transfer link: https://lithophanemaker.com/Lithophane%20Light%20Box.html
Cubic box lighting with lithophane design is another popular way to put photos onto the lamps inside your house. This link can also upload 4 photos at a time. So you can use four different images on different surfaces.
5.Spherical 3D Print Moon Lamp
Lithophanes are great gifts with high customization and amazing visual effect. Lithophane moon lamps add more romance and usability to them. On Lithophane Maker, you could 3d print a lithophane moon lamp easily. You even can customize your favorite photos on the surface of the spherical lithophane lamps.
And if possible you can design a rotatable base for it. Putting a rotatable lithophane moon lamp with family photos in your living room surely catches eyes of your visitors. And of course, it will be quite kind of you to make one for them. And we made one for one of our customers from UAE. Below video is the moon lithophane lamp. 
How to Create a 3D model of the lithophane moon Lamp
Lithophane Generator - Lithophane Maker Website 
LithophaneMaker  (Link: https://lithophanemaker.com/ ) is a free online lithophane generator tool that helps you create the STL files of lithophane automatically. We can find the Lithophane Globe Maker tool on the first page of the website. The tool allows you to design a spherical lithophane with an optional lunar background.
To create a 3D model of the lithophane moon lamp, you need to:
Upload your image.

Adjust the parameters of the moon lamp.

Download the STL files.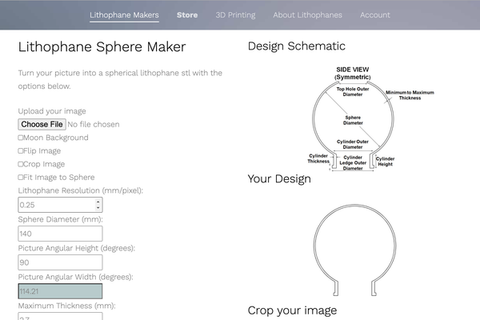 There are a couple of choices for the surface of the moon lamp. By checking the "Moon background" option, your globe surface will be covered by the default moon map. You can click "Choose File" and upload your photo, which will integrate into the moon map. Otherwise, you can upload the map of any planet you like. You can download other planet maps here (Link: https://www.solarsystemscope.com/textures/ ).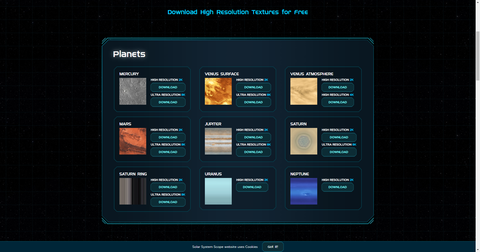 The position of each diameter is shown on the website, and you can find instructions at the bottom of the website. You can leave all the parameters as default, or you can design the lithophane moon lamp as your will by adjusting all these parameters.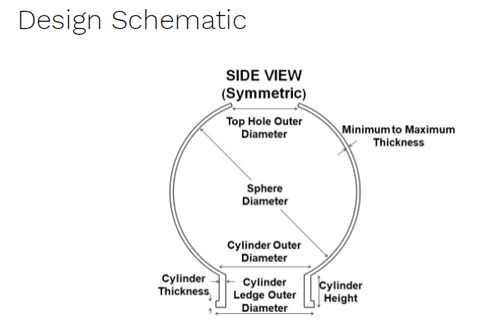 The image of "Your Design" will change with the adjustment of the parameters. You can check it at any time when designing. Once all the adjustments are done, download the files of the 3D model by clicking "Create .stl".
Slice and Print the lithophane moon lamp
The STL is ready, but you need to check it layer by layer before printing and make sure there isn't any hole in it. The holes mean the minimum thickness is less than the line width of your printer. Same as other lithophanes, there are a few settings you need to keep in mind so that you can get the most details of the lithophane:
The infill should be 100%.

Set the print speed as slow as possible

Use the lowest layer height your printer support.
Light up your lithophane moon lamp
The most special part of the lithophane moon lamp is adding a light source inside the lamp. You can easily light up your lithophane moon lamp with a candle. But take care of PLA may melt because of heat. PETG performs better in this case.
Also, you can add a bulb or a length of LED string light, which requires connecting the bulb or LED to the power supply. Using a smart bulb, you can change the light color as you like, it makes the lithophane moon lamp more interesting.
If you plan to install your moon lamp on an existing lamp base, don't forget to adapt the cylinder to your base when setting the STL file.
6.Cylinder Lithophane Lamp
File transfer link: https://lithophanemaker.com/Lamp%20Lithophane.html
With above linked page, you can upload 4 images simultaneously and turn them into a STL format file of cylinder lithophane lamp. It can be mounted on most bulb sockets with the default size. But we recommend you measure out the size first of the bulb socket and you can adjust setting to fit for your bulb.
7.Ceiling Lithophane Lamp
File transfer link: https://lithophanemaker.com/Ceiling%20Fan%20Lithophane.html
This link can also upload 4 photos and turn them into lithophane cover for ceiling lamps.
8.Curve Lithophane Lamp
File transfer link: https://lithophanemaker.com/Curved%20Lithophane.html
This link is suitable for curved lithophane surfacing making with the back hidden into a wall or to your eyesight.
9.Color Lithophane 3D Print
File transfer link: https://lithophanemaker.com/Color%20Lithophane.html
Use above link, you can turn image into color lithophane lighting cover. How does it work? Strongly suggest you go through it and learn.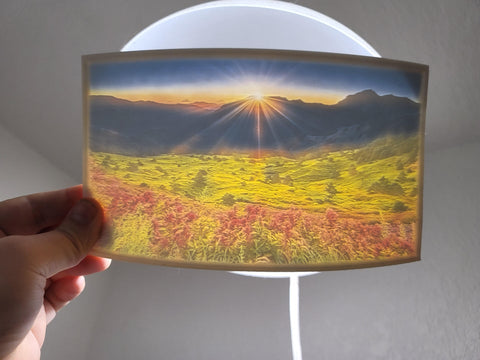 image credit: Leviathan41911
10.Circular Lithophane Plate
File transfer link: https://lithophanemaker.com/Lithophane%20Tag.html
Use above link and you can turn photos into circular and flat 3D plate. The design has a hole for strings or hookers.
11.Christmas Tree Lithophane
Lithophane maker link: https://lithophanemaker.com/Christmas%20Tree%20Lithophane.html
This link can transfer your 3d print images into Christmas tree shape. The bottom is flat and can be placed on tables. And there is a hole on the top so you can hang it somewhere you wanted. Good Christmas deco to make.
That's all for today's sharing of 11 approaches to turn images into lithophane lampes from the "LithophaneMaker.com" website. Thanks to the website that we have easy access for making lithophane STL files. With these online makers, we can decorate our house more beautifully with 3D printed lithophane of your precious photos of your family, your idols, nice flowers, pretty kittens, and etc.