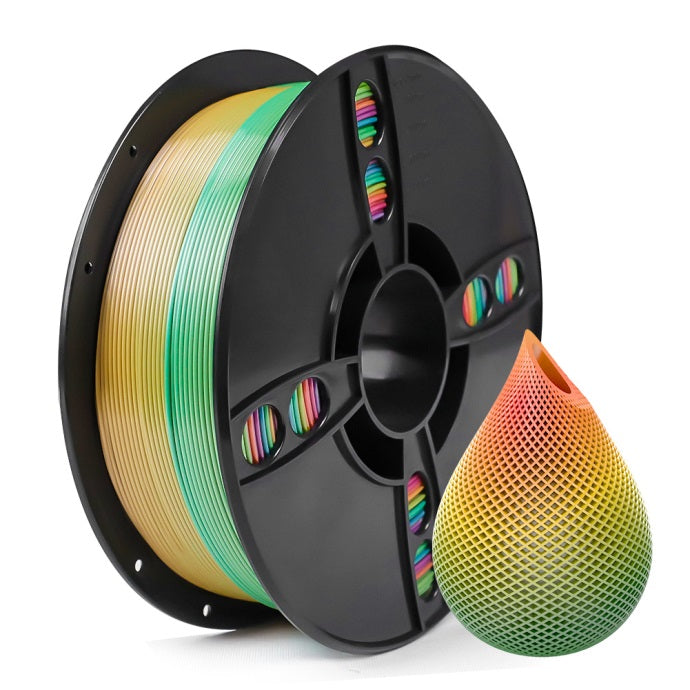 Anet Premium PLA Filament for Top Quality 3D Printing
There are a lot of PLA filament brands with different pricing on the market. And sometimes it's difficult for us to decide which to buy to print a good 3D model. With Anet Premium TM PLA filament, you needn't worry about that any more.
Anet Premium TM PLA filament is designed with special ingredient added and advanced formulation to enhance overall performance for reliable, smooth and high accuracy 3D printing. Comparing to common PLA filament you can find, it has abundance of advantages for printing a 3D model.
Designs & Advantages of Anet Premium TM PLA Filament
1.By adding in additional ingredient for specialty formulation, Anet Premium
TM
PLA filament is as stiff as ABS but more pleasant for 3D printing. It ensures outstanding strength and wont' break during extruder pull-in stage, and reliable adhesion to hot bed and layers.
2.Anet R&D applies advanced processing technology on every spool of Premium
TM
filament to reduce bubbles inside for super consistency of a well printed 3D model. You need less tree supports during print a complicated model, such as a bust.
3.With special packaging process, Anet Premium
TM
PLA filament spool features tight and neat coherence between adjacent filament circles to avoid tangling while printing. As below picture shows, the filament prints more coherently without unexpected printing suspension.
4.Anet Premium
TM
PLA filament use top quality biodegradable PLA raw material to further avoid pollution caused by 3D printing. It's more environmental friendly than common brands PLA filament on the market.
5.Anet Premium
TM
PLA filaments don't jam in hot ends or nozzles, so don't worry about clearing or replacing clogged filament.
6.Anet abides by strict quality control over filament quality and its diameters of every inch for consistent printing of intricate details of 3D models. Feel free to use them to print a model with high precision requirements.
7.All Anet filament spools come in with enhanced vacuum seal and they can be stored for a much longer period than common filament brands. And don't be afraid of declined quality caused printing failure.
8.Anet Premium
TM
PLA filament is easy to print and don't warp at its beginning. It adheres well to various printing platforms, either metal or glass.
9.Anet Premium
TM
PLA
filament prints 0.02mm accurate layers while other filament prints 0.05mm layers.
10.The filament comes in with various and unique color choice for colorful and vivid 3D printing. For example, you have easy access to special colors like ocean blue, marble gray, rainbow, glass transparent, gradient, and etc.
Overall, Anet Premium TM PLA filament is designed for top quality desktop FDM 3D printing at a relatively lower price. It's a high performance cost ratio filament that we strongly recommend you to have for printing your ideal models out!