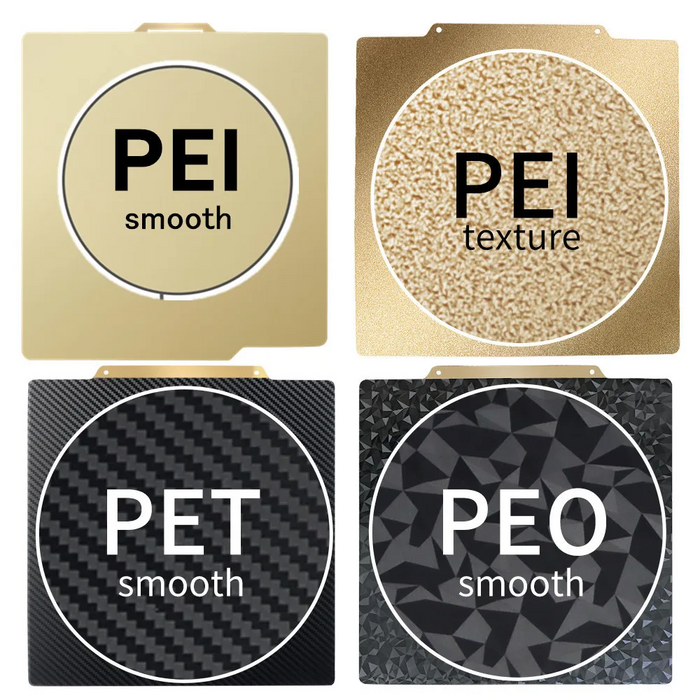 Double Side Magnetic Spring Steel Sheet 241/235/257/350mm PET/PEI/EPO Coated Flexible Hotbed Plate For Ender-3 CR10 Bambu Lab X1 Anet A8 A8+ ET4 ET5
Name:
Double Side Magnetic Spring Steel Sheet 220/ 235/300/310mm PET/PEI Coated Textured Smooth Flexible Hotbed Plate For Ender-3 CR10 Anet A8 A8+ ET4 ET5
Size:
Square Sizes: 220x220mm /235x235mm /310x310mm / 300x300mm(with magnetic base)
Instructions:
1. For the first printing, it must be leveled (the distance between the nozzle and the hot bed is generally A4 paper thickness)
2. Tear off the adhesive on the base of the magnetic sticker and stick it on the hot bed platform, pay attention to be flat and do not leave air bubbles
3. Adsorb the PEI side or the PET side spring steel plate on the magnetic base
4. Start printing, the temperature of the hot bed can be set to 40°C-80°C according to the actual situation (do not exceed 80°C)
5. Take off the printing surface and bend it gently to achieve easy demoulding.
Advantage:
1. Double-sided printing, convenient and practical
2, High temperature resistance, scratch resistance, no deformation
3. No glue, easy to use
4. Anti-warping and strong stickiness
5, Stainless spring steel, good flatness
6. The printed model can be removed without the help of other tools, can be bent and returned to a flat state, no
loss mode
7. Easy to clean, just wipe it off with a wet tissue or alcohol before printing
Note 1:
DO NOT USE ACETONE ON POWDER COATED PEI SIDE!!!!
Note 2: 
PET/PEO and PEI must be used with the magnetic base. Please make sure you already have a magnetic base at home before you buy the one without magnetic base.
Package including:
1 Set Spring Steel Sheet pre-applied Sheet+with or without Magnetic Rubber Plate.
Maintenance
Wipe the print surface before and after a print with Isopropyl alcohol to maintain a clean surface for maximum bed adhesion strength. As with any build surface, make sure you are not printing too close to the bed to avoid possibly infusing the filament into the build surface. If printing PETG, TPU, TPE, and RYNO, make sure the bed is heated BEFORE attempting to remove the print from the bed.