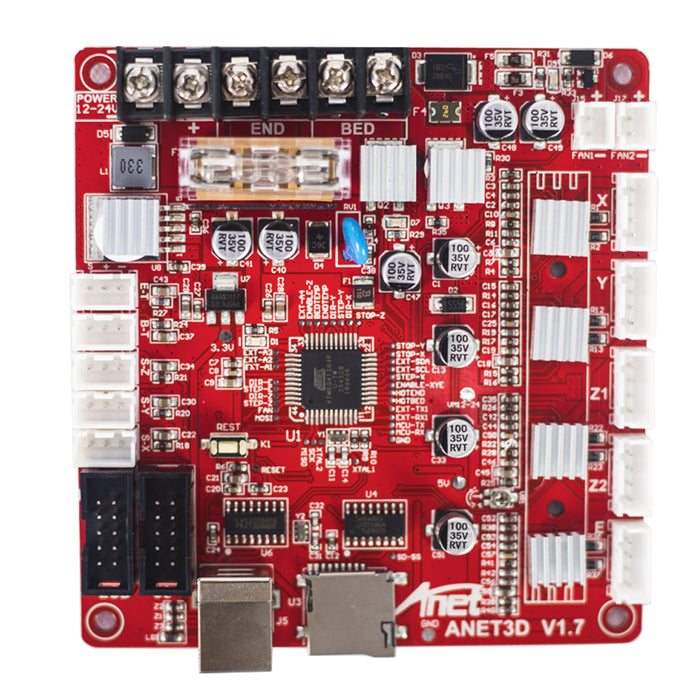 Control Board Mainboard for Anet A8 A6 A8 Plus 3D Printers
Highly integrated one board, to solve the Ramps1.4 modular interface cumbersome, easy to trouble the problem.
Support automatic leveling proximity probe, the customer can add their own automatic leveling.
The use of high-performance low resistance through the Mos tube to do the drive, cooling better.
The use of ST original power supply chip to support 12V power input to solve the Ramps voltage conversion chip heating problem.
Configuration and Ramps1.4 exactly the same, can be directly replace Ramps1.4.
Can be directly connected Ramps1.4, 2004 LCD control panel and 12864 LCD control panel ( remove the L-type adapter board ).

Specifications:
1. Version 1.7 (black) / Version 1.5 (blue)  Suitable for Anet A8 Plus, Anet A8, A6, Auto leveling A6, Auto leveling A8,
Note:

1.The versions of V1.7 (black) and V1.5 (blue) are shipped randomly
Please choose the correct model, because the firmware is different ,not compatible. Thank you.
Package includes:

Mainboard * 1PCS
Worldwide FREE shipping from our Chinese warehouse.
Shipping by China post.
If need by express, please contact with us.
The picture is for reference only. Please adhere to the original products in case of any mistake.